Battlefield Vietnam und Battlefield 2142 Fans aufgepasst!
Totgesagte Leben länger!!!
Mit dem kostenlosen
GameRanger
Programm könnt ihr alte Spiele-Klassiker wieder online spielen. Während es für
Battlefield 1942
und
Battlefield 2
eine Lösung gibt, weiter Online zu spielen, war
Battlefield Vietnam
und
Battlefield 2142
praktisch tot. Nun können Fans der Battlefield Reihe wieder Online dabei sein und sogar einen Eigenen Server Hosten und alte und neue Freunde einladen. Aufgrund unserer Recherche fiel auf, dass das
GameRanger
Programm, in unserer Community noch nicht einschlägig bekannt ist.
Nach der Registrierung bei der du den Nutzungsbestimmungen zustimmst, suchst du dir einen Nicknamen und Real Namen aus. Danach gebt ihr ein Passwort und eure E-Mail an, Nun kann es auch schon losgehen. Das Tool, scheint in einer Cloud gespeichert zu sein, denn man findet keine Installationsdatei auf dem Rechner? Wenn man bereits einen Nicknamen im BF 1942 Spiel hatte zum Beispiel:
"Jaime Rodriguez (ESP)"
, kam nach dem Verbinden auf den Server die Veränderung des Nicknamens zu:
"Jaime_Rodriguez_(ESP)"
, was ein kleinwenig störend ist.
So sieht das Hauptmenü aus: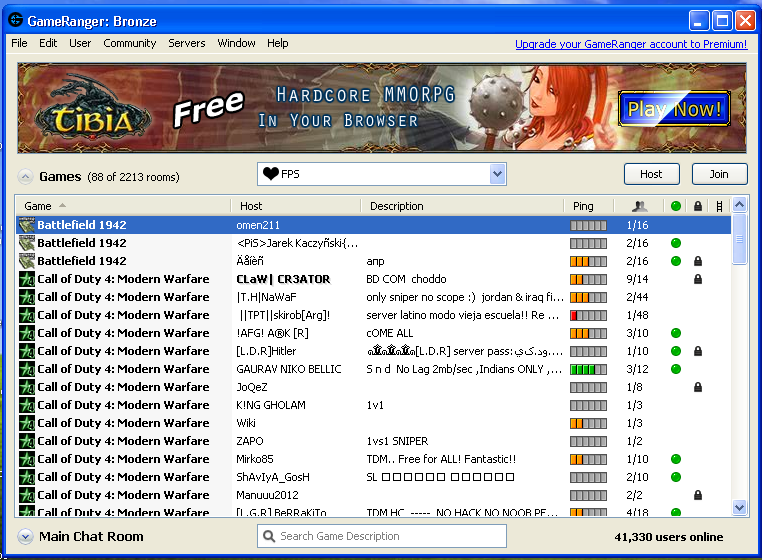 Unterstützte Battlefield Spiele:
Battlefield 1942
Battlefield 1942 Demo
Battlefield 1942 Secret Weapons
Battlefield 1942 Secret Weapons Demo
Battlefield 1942 The Road To Rome
Battlefield 1942 Desert Combat
Battlefield 1942 Forgotten Hope
Battlefield Vietnam
Battlefield 2
Battlefield 2 Demo
Battlefield 2 Spcial Forces
Battlefield 2142
Mit GameRanger wieder alte Spiele Online spielen
Wenn ihr euch den "GameRanger" herunter ladet, besteht die Möglichkeit alte Spiele wieder Online zu spielen. Zum Beispiel diejene, die mit der Gamespy Abschaltung verschwunden sind.
Das besondere an diesem Programm ist, ihr könnt einen eigenen Online-Server erstellen (hosten), wo dann andere Spieler oder Freunde beitreten können. Wenn ihr nicht wollt, das Fremde auf euren Server kommen, könnt ihr ein Passwort schalten. Darüber hinaus bietet GameRanger Ligensysteme mit Rankings, Statistiken, Spielerprofilen, sowie Freundeslisten an.
Nach eigenen Angaben unterstützt GameRanger mehr als 720 Spiele verschiedenster Genres, unklar ist noch, ob in Zukunft noch weitere Spiele hinzugefügt werden. Die bekanntesten Oldschool - Retro Spiele sollten aber jedoch alle vertreten sein.
Falls euch die Werbung stören sollte, könnt ihr auf die kostenpflichtige Version von GameRanger wechseln.
Fazit und Test Bericht:
Als wir beim erstellen unserer News dort Online waren, gab es bereits einen gehosteten Battlefield 1942, Desert Combat und einen Forgotten Hope 0.7 Mod Server. Darüber hinaus mehr als 10 Battelfield 2 Server und einen Battlefield 2 Special Forces Server. Kinderleicht könnt ihr via E-Mail Freunde einladen und mit ihnen Chatten oder Quatschen. Beachtet bitte dabei, dass die Server nur solange geschaltet sind, wie der Server Ersteller Online ist. Somit kommt es zu einer Echtzeit Fluktuation der Serverliste, die nerven kann. Außerdem sind uns bisher durch die Bank weg nur Eigenbrötler über den Weg gelaufen, die
mit sich selber spielen wollen
mit ihren Freunden
ein Passwort geschaltet haben
Fragen ob man sich kennt und wenn man sagt nein, man wolle nur mitspielen, wird man abgelehnt
Beleidigt den Server Abschalten
Für
Battlefield Vietnam
und
Battlefield 2142
ist
GameRanger
wiederum eine Errungenschaft, um mit ein paar Leuten diese Epoche der Battlefield Reihe wieder aufleben zu lassen.
Download "GameRanger":
click
Nun zu Euch Lesern
Schreibt doch mal, was Ihr für Erfahrungen mit dem GameRanger Programm gemacht habt?
Habt Ihr das Programm schonmal benutzt?
Lasst einfach ein Kommentar da und empfehlt uns den
hg-clan.blogspot.de
Blog weiter.
Wir Danken Euch im Vorraus.
Source: GameRanger.com, bfmods.com, chip.de