Bereits mitte April ereilte uns plötzlich und unerwartet die traurige Nachricht, dass der Mod Hoster Gamefront.com (Filefront bis 2010) gemeinsam mit battlefield2.filefront.com die Pforten schliessen wird. Die Plattform war dafür bekannt, viele alte und neue Modifikationen von diversen spielen, darunter auch unser Spiel Battlefield Mods und Maps Downloads zu beherbergen.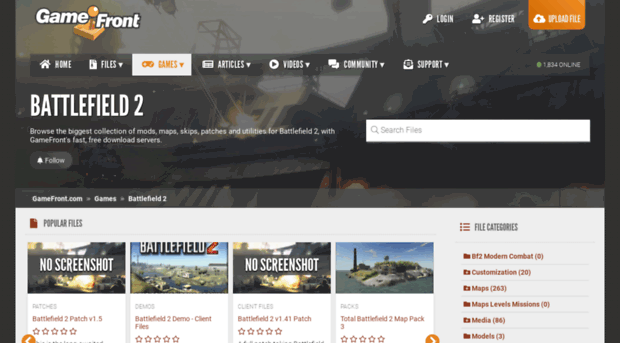 Wir haben unten für Euch zwei News aus dem Web nachgetragen, so habt ihr eine Referenz zu uns.Und wenn ihr genauere zahlen und Fakten braucht findet ihr diese am Ende unseres Artikels.
Anno 2008 kamen wir das erstemal mit dieser Plattform in Kontakt. Wir waren begeistert, wie schnell und unkompliziert man die benötigten Modifikationen herunterladen kann. Desweiteren beteiligten wir uns bis zum Schluss im Forum und versorgten dort die Internationale Community mit vielen News über die Battlefield Modding Welt. Danke an die Administratoren die uns stehts freundlich und gut aufgenommen haben.
Großer Partner von Gamefront.com war Moddb.com.
Leider sind zum Beispiel bei bf-games.net noch viele Link Leichen mit Verweis auf Gamefront und andere tote Seiten im Netz zu finden. Wir haben unsere Datenbank zu den Mod Download Links überprüft und ergänzt. Die, welche wir in Kursiv darstellen, dafür haben wir keine alternative gefunden, wir versuchen euch jedoch die fehlenden Dateien nachzutragen.
Alternativ zu Gamefront.com könnt ihr zum Beispiel Moddb.com, zu der auch Desura.com gehört nutzen. Leider ist die Dateibreite und tiefe nicht so gegeben, aber zumindest bekommt ihr dort stehts aktualisiert die wichtigsten Mods und ab und zu eine News zu Battlefield 1942 und anderen Spiele Modifikationen (z.B. für Battlefield 2, Company of Heroes, Half-Life....) geboten.
Wir hoffen, dass welche von Euch Entwicklern, Lesern und Spielern da draussen ein paar Daten sichern konnten und diese der Community irgendwo im Web zur Verfügung stellen können? Wenn ja teilt uns bitte mit, wie, was wo?
Damit die gute und intensive Arbeit der Modder, in der viele Stunden, Monate und Jahre steckt nicht für immer im Web vergessen und verloren geht. Jeder kann etwas dafür tun, dass die Mod Community erhalten bleibt. Wenn wir aktiv genug bleiben, dann schaffen wir es so manch Schiffbruch wieder zu flicken und ins richtige Fahrwasser zu bringen.
Wir danken Gamefront aka Filefront für die vielen Jahre, in denen Modifikationen, stehts rund um die Uhr schnell und zuverlässig ein Habitat gefunden haben. Ihr werdet uns immer angenehm in Erinnerung bleiben.
Nachtrag - GameFront savefiles / News upadate 03..Juli 2016:
Bei unserer Reise durch das Internet, um neue News zu erkunden haben wir erstaunliches entdeckt. Die Verantwortlichen von GameFront haben sich darum gekümmert, den Mod und Files content zu sichern und somit weiterhin zum Download anzubieten. Beachtet bitte dabei, wenn ihr die Dateien testet, dass diese nicht alle auf dem neusten Stand sind. Darüber hinaus ist es möglich, dass manche Versionen nicht mit Windows 7-10 kompatibel sind. Wer jedoch die Reise in die Entwicklung und Release Palette von Battlefield machen möchte, sollte sich die Dateien nicht entgehen lassen.
Link zum Download Hoster!
"GameFront files alive":
click
Zwei ausgesuchte Reaktionen aus dem Web für Euch
Insbesondere PC-Spieler kennen und nutzen gerne diverse Mods für verschiedenste Spiele, um die Grafik aufzumotzen und neue Items oder auch ganze Welten in ihr Spiel einzufügen. GameFront, eine der größten Hosting-Seiten für solche Mods, stellt jetzt den Betrieb ein.
Unterdessen versucht der ehemalige Mitarbeiter Dany King das schon lange laufende FileFront- / GameFront-Forum bei FilesNation.com unterzubringen, wo künftig die Diskussionen über Mods ablaufen sollen.

Star Wars-Charaktere und Lichtschwerter in Fallout 4, Counter-Strike und Enderal haben eines gemeinsam: All dies gibt es nur, weil fleißige und kreative Modder ihre Freizeit opferten, um sie euch zur Verfügung zu stellen. Ganz genau, es handelt sich um Modifikationen, auch Mods genannt. Es gibt sie für praktisch jedes PC-Spiel und sie haben meist einen großen Fun-Faktor oder erfüllen einen sinnvollen Nutzen, weil sie zum Beispiel Fehler beheben, die von den Entwicklern übersehen wurden. Um an solche Mods heranzukommen, gibt es einige sogenannte Mod-Hoster, deren Datenbanken Tausende von Direktlinks und Anleitungen zur Verfügung stellen. Einer der größten Mod-Hoster ist GameFront – zumindest bislang. Wie die Verantwortlichen jetzt bekannt gaben, wird der Betrieb zeitnah eingestellt.



GameFront bietet derzeit eine Auswahl an 328.000 Mods, Patches, Tools und anderen Dingen, die bald nicht mehr verfügbar sein werden. Am 30. April 2016 wird die Website, die unter dem Namen FileLeech vor fast 20 Jahren startete, vollständig vom Netz genommen. In Panik solltet ihr jetzt allerdings auch nicht ausbrechen. Zwei Wochen haben die Leiter der Seite noch die Möglichkeit, diesen riesigen Datenkatalog auf irgendeine Weise zu retten. Wie GameFronts Ron Whitaker betonte, werde derzeit versucht, genau dies zu bewerkstelligen. Mod DB hat die große Modding-Community bereits gebeten, die Exklusiven Mods der Konkurrenzplattform auf die eigenen Server zu laden und so für die Gamingwelt zu erhalten.

Hinter der GameFront-Schließung steckt Mutterkonzern Defy Media, der in den vergangenen Monaten bereits andere beliebte Seiten vom Netz genommen oder massiv eingeschränkt hat. Prominenteste Beispiele sind GameTrailers und The Escapist.

GameFront -17 years of PC game modding history is going offline (1999-2016)
English Source:

One of the Web's oldest and largest repositories for classic and current PC gaming mods will be shutting down for good later this month. GameFront announced today that its servers will be going offline on April 30 and that "any files not downloaded by that time will no longer be accessible."

"Since our founding as FileLeech almost 20 years ago, we have always strived to offer the best file hosting alongside quality gaming content," former GameFront staffer Ron Whitaker wrote. "To all of our fans who have supported us throughout the years, we thank you for making us your destination for gaming files. Despite name changes, ownership changes, and staff changes, you have always made our jobs rewarding and fun."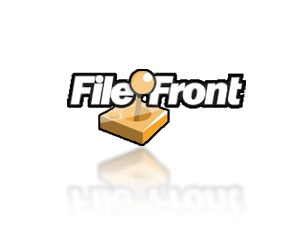 The shutdown is a blow to those who rely on GameFront for access to tens of thousands of mods, demos, patches, tools, maps, skins, and add-ons for PC games dating back to the mid-'90s. It's especially significant to those looking for mods and patches for older games with smaller communities or defunct publishers, which can be hard or impossible to find elsewhere.

After April 30, those files will still be accessible by digging through the Internet Archive, which maintains a massive mirror of the site as it exists today and in the past. For those that want to see GameFront mods continue to be published and maintained in a more organized fashion going forward, though, fellow hosting site Mod DB has put out a call for users to back up and share GameFront-hosted files with them.

"We must unite as a community and preserve the mods that GameFront hosts which might otherwise be lost forever," Mod DB writes. "We are very worried that many amazing mods and addons shared only on GameFront will be lost in two weeks time after the closure. So we are calling on our entire community to help us preserve these files and make them available forever... Mod DB would like to wish the team at GameFront the very best with their future endeavors and once again thank them for their contribution to the modding community."

Further Reading
Gone, baby, gone: 1up sold, EGM killed, staff promptly fired

Ziff Davis has finally managed to sell 1up.com, but the announcement of mass …
This final shutdown is the end of a long road for GameFront. The site originally launched as FileLeech way back in 1999, renaming to FileFront in 2001 before being purchased by the Ziff Davis media conglomerate (Electronic Gaming Monthly, 1UP) in 2005.

When Ziff declared bankruptcy in 2009, FileFront posted a farewell message and urged its community to "please take this opportunity to download [your files] before March 30th when the site will be suspended." The site was only saved by the last-minute efforts of founder Derek Labian and other staffers who backed up the entire database and bought the site from the crumbling Ziff Davis.

In 2010, FileFront was purchased again by Break Media (which later merged with Escapist and Smosh owner Alloy Digital to form Defy Media) and renamed to the more general GameFront. But GameFront's finances have been looking rough for a while now; the entire editorial and video staff was laid off just over a year ago, and a network of more than 50 affiliate sites was shut down last July.

No specific reason was given for GameFront's final closure this month (and Defy Media hasn't responded to a request for comment), but fellow Defy Media acquisition GameTrailers was also recently shut down after 13 years of providing game-related video content. Over the years, GameFront's most popular files have been downloaded millions of times. Former members of the FileFront and GameFront communities are currently gathering in a massive forum thread to say their farewells to the storied site.